More than 200,000 people have been killed or have disappeared since Mexico's government declared war on organised crime in December 2006.
The military offensive has led to the destruction of some drug gangs, splits within others and the emergence of new groups.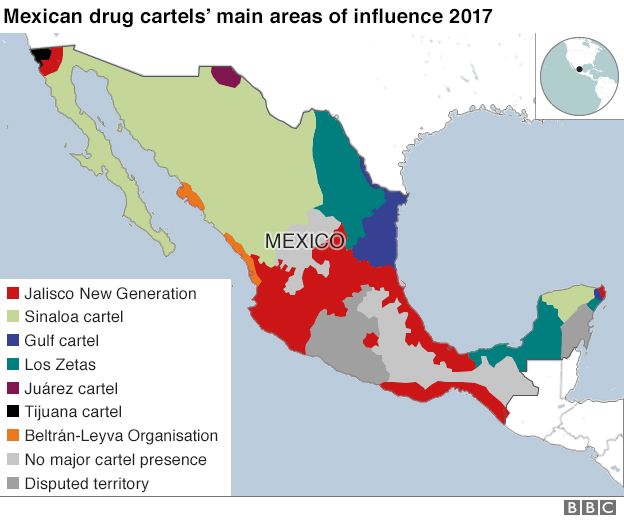 With widespread corruption and impunity exacerbating Mexico's problems, there is no end in sight to the violence.
Which are the most powerful cartels today? And who is behind them?
The Sinaloa cartel
Founded in the late 1980s, the Sinaloa cartel headed by Joaquín "El Chapo" Guzmán has long been considered Mexico's most powerful criminal organisation.
Having outfought several rival groups, the Sinaloa cartel dominates much of north-west Mexico and makes billions of dollars from trafficking illicit narcotics to the United States, Europe and Asia.
However, the cartel's future is uncertain after Guzmán was recaptured in 2016 following two daring prison breaks. He was extradited to the US in January and now awaits trial in New York.
The Jalisco New Generation
Sinaloa's strongest competitor is its former armed wing, the Jalisco New Generation cartel. Formed around 2010, the Jalisco cartel has expanded rapidly and aggressively across Mexico and is now challenging Sinaloa for control of strategic areas, including Tijuana and the port of Manzanillo.
The Jalisco cartel is blamed for a series of attacks on security forces and public officials, including downing an army helicopter with a rocket-propelled grenade in 2015. Mexico's Attorney General Raul Cervantes recently declared it the nation's largest criminal organisation.
Continue reading Mexico's most-wanted: A guide to the drug cartels →