The local government in Washington, D.C., has approved a measure to rename the street in front of Russia's embassy after slain Russian opposition leader Boris Nemtsov.
In separate votes on January 9, the District of Columbia Council passed the Boris Nemtsov Plaza Designation Act in its first reading and unanimously approved the renaming "on an emergency basis" pending final adoption of the permanent legislation.
The city initiative renames the block of Wisconsin Avenue that is home to the Russian Embassy in honor of Nemtsov, a reformist politician and fierce critic of President Vladimir Putin who was shot dead on a bridge near the Kremlin in 2015.
Federal legislation on renaming the portion of the major thoroughfare was introduced in the U.S. Senate and House of Representatives in 2017, but has not been passed.
The Senate bill specifies that the address of the compound containing Russia's embassy, consulate, and ambassador's residence would be changed to 1 Boris Nemtsov Plaza.
Russian opposition figure Vladimir Kara-Murza, chairman of the Boris Nemtsov Foundation for Freedom, wrote on Facebook after the city-council vote that it would take effect on February 27 — the third anniversary of Nemtsov's assassination.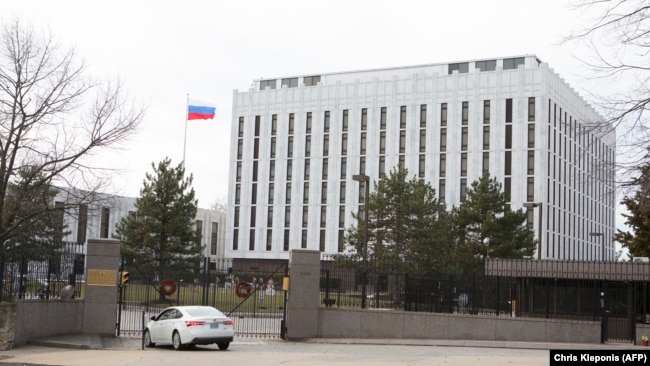 In Moscow, Nemtsov supporters have established a makeshift memorial in his honor on the bridge where he was shot dead. But it has been repeatedly ransacked or removed by police or unknown people.
A plaque honoring Nemtsov that was mounted on his Moscow apartment building in September was declared illegal by city officials and was removed after less than one week by a radical pro-Kremlin activist group called SERB.
In June, a Moscow court found five men from Russia's North Caucasus region of Chechnya guilty of Nemtsov's murder, and in July it sentenced them to prison terms ranging from 11 to 20 years
But relatives and associates believe the killing was ordered at a higher level. They say justice will not be served until the person or people who ordered his assassination are identified and prosecuted.
At a public hearing in Washington in December, Nemtsov's daughter Zhanna Nemtsova told the city council that Putin's government wanted to "eradicate the memory" of her father.
She said the Kremlin "believes — correctly — that symbols are important and can potentially facilitate and inspire change."
"This explains the nervous reaction from the Russian Foreign Ministry when they first heard of the Washington, D.C., [street-naming] initiative," Nemtsova said.
"In today's Russia, where politics is dominated by isolationism and an archaic mind-set, the symbols of openness, a global-thinking democratic approach, and market reforms are much needed," Nemtsova told the council.
Mary Cheh, a city-council member who co-sponsored the Boris Nemtsov Plaza Designation Act, said that "there is little doubt that his murder was motivated by his political beliefs, his popularity, and his frequent and open criticism of the Russian government."
Cheh also said that while Russian officials had repeatedly removed signs in Russia that memorialize Nemtsov, "the Russian government will not be able to do it here."