There are at least 13 places in the world called Amsterdam, but do the rounds and most people will only know one: the Dutch capital. Other Amsterdams include a South African town, a remote village in Ohio, and a French island in the Indian Ocean. But the most outlandish one, the trickiest to reach and, ultimately, survive on, must be Amsterdamøya – a small, unpopulated island close to the north pole.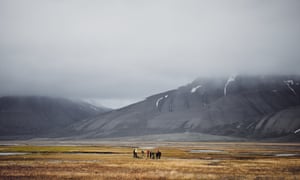 Part of the Svalbard archipelago, Amsterdamøya is today Norwegian territory, but the island was discovered by Dutch explorer Willem Barentsz in 1596. Svalbard covers a relatively small area, roughly the same size as Ireland, but its hostile weather conditions and remote location, a mere 650 miles from the absolute top of the world, mean only 2,500 people live across the islands.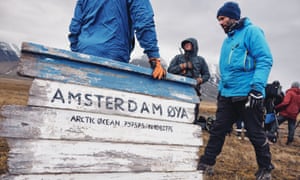 As inhospitable as it is out of the way, Amsterdamøya is, naturally, an obvious choice for a fashion shoot. To reach it, a crew flies into Longyearbyen – the biggest town in Svalbard and the world's northernmost commercial airport. Landing after midnight in broad daylight, they board the 199-ton, 1959 ship Gamle Mårøy for a 17-hour passage. The journey is as much a novelty for the six-man crew as for the film-makers, none of whom have ever ventured so far north. These serious, experienced seamen must learn to navigate make-up, drones and straighteners (plus directors, photographers, technicians, stylists and models) scattered across the boat.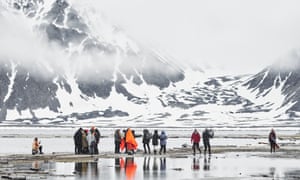 The Arctic horizon is dominated by fierce iceberg silhouettes; the desolate island – once the crew finally reaches its shore – is littered with stranded logs that have drifted all the way from Siberia. No humans live here, only polar bears and walruses – their very real threat meaning guards with flare guns flank the group. Heavy snowflakes bounce off rolling waves and soon cover the boat. Sure, it's July, but this is the Arctic – normal rules do not apply.
Why, then, here? Why take a 24-hour trip for a short film and a lookbook? A perverse desire to go where no film crew ever has? To discomfort dozens for art? The answer is, in fact, in the name: Amsterdamøya. The shoot is in aid of Dutch fashion brand Scotch & Soda's latest campaign (film above) – part of a brilliantly idiosyncratic quest to discover all 13 international Amsterdams, thus proving the label's mantra that "Amsterdam can be anywhere". Considering Amsterdamøya, though, "Resist simple" seems equally apt. "Why do all Amsterdams have to be so remote?" Scotch & Soda's creative director, Marlou van Engelen, at one point mutters.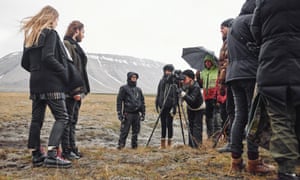 Indeed, while this crew films on Svalbard, separate teams around the world are on the hunt for other Amsterdams. In the West Papua region of Indonesia, few guides know Amsterdam island well; and the team manages to find perhaps the only living person with enough knowledge to take them there. Meanwhile, in the South African village of Amsterdam, they must locate the town chief to get his blessing and approval before filming. In theory, less stands between Scotch & Soda's teams and the eight US Amsterdams, but a gang of Dutch models still causes quite the stir among 500-odd unsuspecting residents of Amsterdam, Ohio.
Back at latitude 79 ̊ 45' 26.88' N and longitude 10 ̊ 49' 39.59' E, the Amsterdamøya shoot is under way, with director Fleur Fortuné – the first commercial film-maker to work here – finding her muse among the wet moss, beached walruses and snow-capped mountain peaks. Occasionally, a fishing trawler will cross the horizon; nothing else. The remoteness and quiet are intense – even the crew communicate in whispers. Only later does the Gamle Mårøy's roaring diesel engine recall reality, as she slices through the waves on the long journey back to Longyearbyen.
Much of this region is classed as a cultural landmark, and abandoned equipment from when it was a vital coal-mining centre still litters its shores. But Svalbard's mining days are long gone. Now, Ny-Ålesund, another Svalbard village, houses a research lab for international scientists, which keeps the economy going. It's also here that the Global Seed Vault stores almost a million seeds from all over the world, lest a global emergency wipes out the existing ones. This far from "life as we know it", it isn't inconceivable – not least since 2016's permafrost melting breached the "impregnable" seed stronghold.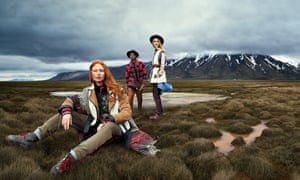 These visitors came to Amsterdamøya for a fashion shoot; the situations and scenes created were staged. But they are set against very real conditions and potential consequences – the Arctic can be merciless. Still, for Scotch & Soda, it is a voyage well made: a picture-perfect shoot and an adventure to another Amsterdam.