North Korea has vowed to exact "thousands-fold" revenge against the US after the UN imposed new sanctions in response to the regime's recent tests of intercontinental ballistic missiles.
In a statement carried by the official KCNA news agency, the regime said the sanctions were a "violent violation of our sovereignty" and part of a "heinous plot to isolate and stifle" the country.
On Saturday the UN security council unanimously backed new sanctions that could slash the regime's $3bn in annual export revenue by a third. The measures target key export revenue earners such as coal, iron, lead and seafood – but not oil.
Pyongyang threatened to take "righteous action", describing the sanctions as a "crime" for which the US would pay "thousands of times".
The UN measures also forbid China, Russia and other countries from hiring any more North Korean labourers, whose remittances help fund the regime, as well as prohibit joint ventures with the country and any new investment in existing business partnerships.
The US ambassador to the UN, Nikki Haley, described the measures as "the single largest economic sanctions package ever levelled" against North Korea.
In a telephone call on Monday Donald Trump and his South Korean counterpart, Moon Jae-in, agreed that Pyongyang's nuclear and missile programmes "pose a grave and growing direct threat" and vowed to apply "maximum pressure" on the regime.
The North Korean statement did not indicate what action it was considering in response to the UN move, but said additional sanctions would not force it into negotiations over its nuclear and ballistic missile programmes. "We will not put our self-defensive nuclear deterrent on the negotiating table … and will never take a single step back from strengthening our nuclear might," it said.
Pressure on China – North Korea's main ally and by far its biggest trading partner – to sign up to, and then enforce, more robust sanctions has mounted since the regime conducted two ICBM tests last month.
While many experts believe that Pyongyang is still some way off being able to mount a miniaturised nuclear warhead on a long-range missile, the regime now has missiles that, theoretically, are capable of striking the US mainland.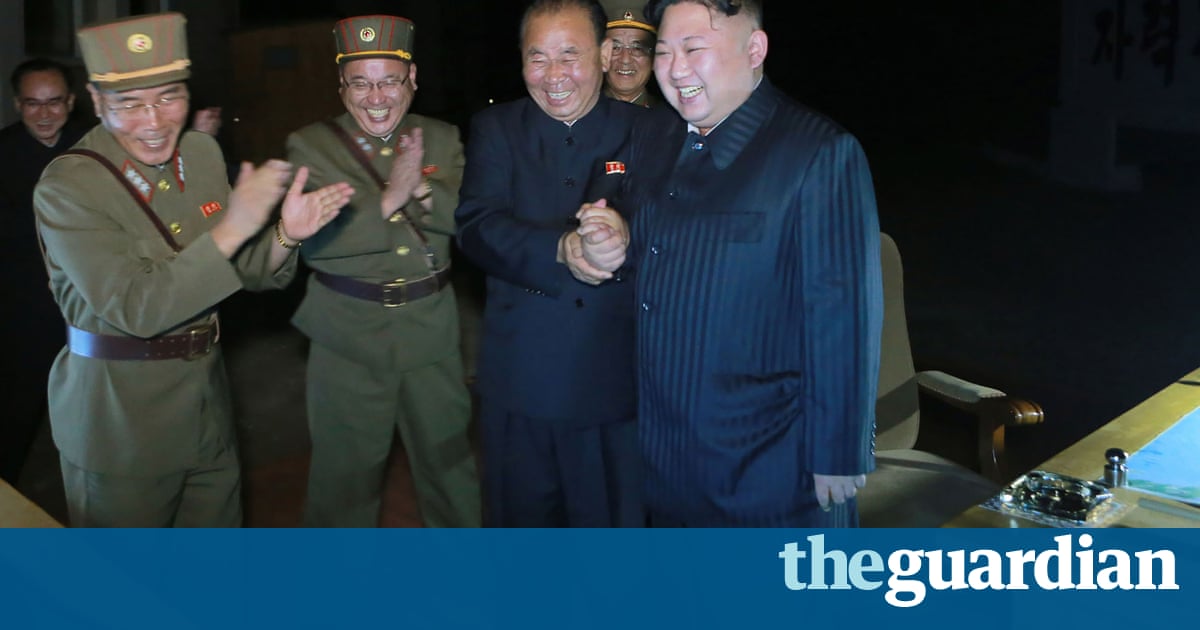 The KCNA alluded to North Korea's new capability on Monday, saying: "There is no bigger mistake than the United States believing that its land is safe across the ocean."
The White House said in a statement that Trump and Moon had agreed that advances in North Korean missile technology, achieved despite eight rounds of multilateral sanctions in the past 11 years, posed "a grave and growing direct threat to the United States, South Korea, and Japan, as well as to most countries around the world".
In an hour-long phone call on Monday, the leaders said they would continue to apply pressure to the North. Joint US-South Korean military exercises this month are expected to provoke an angry response from the regime.
Moon, who supports cautious engagement with North Korea, told Trump that the door should remain open to dialogue, provided Pyongyang agreed to abandon its nuclear programme, according to presidential office spokesman Park Su-hyun.
In a Twitter post, Trump said he was "very happy and impressed with 15-0 United Nations vote" on the sanctions, but China has warned that any punitive actions targeting North Korea must "avoid bringing disaster" to the economically fragile state.
In a front-page commentary on Monday, the overseas edition of the ruling Communist party's official People's Daily said sanctions must be employed with precision.
"Sanctions to the greatest possible extent must avoid causing negative impacts to ordinary people and to third countries, and avoid bringing disaster to the country in question's normal and legal trade and business exchanges with the outside world, people's normal lives and the humanitarian situation," the paper said.
"A precision blow is the essential part of sanctions."