Taliban denies responsibility for massive blast in Kabul which comes amid wave of renewed militant violence across the country and at beginning of holy month of Ramadan
The death toll in a huge explosion that rocked Kabul's city centre has risen to 80 and another 350 people have been injured, Afghanistan's Public Heath Ministry has said.
The damage is believed to have been caused by a powerful suicide car bomb deployed during rush hour on Wednesday morning, police spokesperson Basir Mujahid confirmed.
The massive blast near the German and French embassies in Zanbaq Square sent thick plumes of smoke into the sky and managed to shatter windows and blow doors off their hinges hundreds of metres away. Makeshift ambulances struggled to deal with the number of casualties as the scale of the damage became clear.
At least one journalist working for local Tolo news agency was confirmed to have died.  German security sources said that an Afghan security guard at the embassy had been killed and several German staff hurt.  The Japanese Embassy also confirmed two of its employees had been wounded.
People are still arriving at local hospitals and the death toll is expected to rise, the Interior Ministry said, putting out an urgent appeal for blood donors. Most of the dead are thought to be civilians.
There has been no immediate claim of responsibility for the attack – although a Taliban spokesperson appeared to deny responsibility, making it more likely Isis is to blame.
The attack is the deadliest in Kabul since two Isis suicide bombers blew themselves up during a Shia protest march last July, killing 80 people and wounding a further 230. Prior to Wednesday's attack, a total of 220 people had died in terror attacks in the capital since April 2015.
Last month, a Taliban offensive on an army training compound near the northern city of Mazar-e-Sherif killed 135 soldiers.
It is not clear what the attacker's intended target was, although recent incidents inside the heavily fortified diplomatic district – supposedly the capital's safest area – have been claimed by both groups.
Local media said the explosives were hidden inside a lorry or water tanker, although authorities have not confirmed the reports.
In a statement the Afghan government condemned the attack, saying: "Today the enemies of Afghanistan once again showed their brutality by killing and wounding civilians. The enemy has no mercy on civilians."
Afghanistan as a whole has seen of a wave increasing violence in the past year as both Taliban and Isis militants struggle to overthrow the US-backed government and impose Islamic law.
In recent years jihadist groups have increasingly called for attacks on civilians during the holy month of Ramadan, which began on Saturday.  A suicide bomber killed 26 people breaking their fast and enjoying ice cream at a shop in Baghdad on Tuesday.
Although the Taliban lost control of the country following the US invasion of 2001, since most international troops withdrew in 2014 the organisation has steadily gained ground. It is currently in control of around 40 per cent of Afghanistan, although it holds no cities.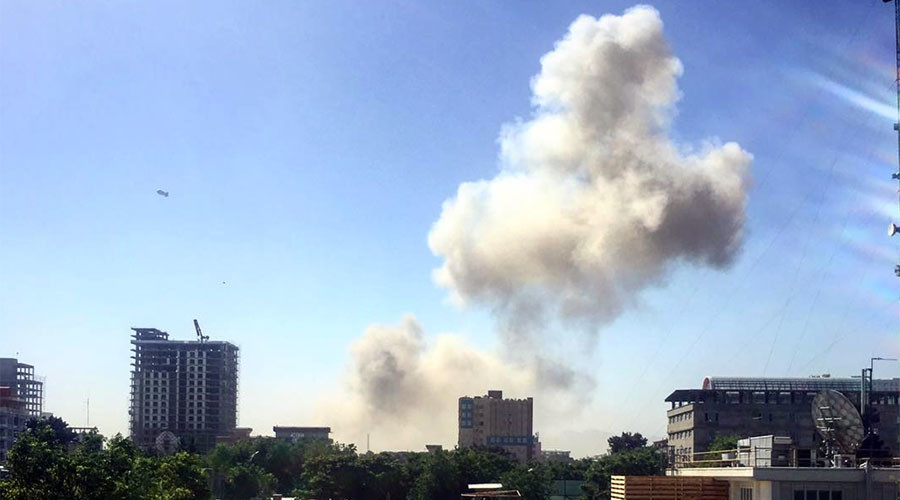 It announced a spring offensive last month which would target foreign forces in the country.
There are currently around 13,000 US and Nato ally troops deployed to Afghanistan, although the Pentagon has urged US President Donald Trump to send more soldiers to combat the deteriorating security situation.