President claims he disclosed information for 'humanitarian reasons' – in statement appearing to contradict administration's previous account
Donald Trump has insisted he has the "absolute right" to share selected information with Russia amid allegations he passed on classified intelligence.
The President made his first statement on Twitter following a series of denials from White House officials.
"As President I wanted to share with Russia (at an openly scheduled W.H. meeting) which I have the absolute right to do, facts pertaining…to terrorism and airline flight safety," he wrote.
"Humanitarian reasons, plus I want Russia to greatly step up their fight against Isis & terrorism."
The Washington Post reported that the President shared intelligence from a US ally in a meeting with the Russian foreign minister, Sergey Lavrov, and ambassador Sergey Kislyak.
It cited current and former US officials saying Mr Trump had divulged information provided through an intelligence-sharing arrangement, which was considered so sensitive that details have been withheld from allies and tightly restricted even within the American government.
The information concerned plans by the Department of Homeland Security to ban laptops and other electronic devices from hand luggage on flights between Europe and the US.
Britain and the US imposed a similar prohibition in March affecting departures from airports in 10 Muslim-majority countries, following a terror threat.
HR McMaster, the national security adviser, dismissed allegations the President had relayed sensitive information to the Russians from a foreign agency – a move that allegedly put cooperation with a partner "that has access to the inner workings of Isis" at risk.
"I was in the room, it didn't happen," he said. "The President and the foreign minister reviewed a range of common threats to our two countries including threats to civil aviation.
"At no time, at no time were intelligence sources or methods discussed and the President did not disclose any military operations that were not already publicly known."
But Mr Trump's tweets implied that the "facts" he relayed to Russia were new, apparently contradicting Mr McMaster's statement.
US media outlets were barred from Wednesday's meeting between Mr Trump, Mr Lavrov and Mr Kislyak, although a Russian state media photographer was allowed inside after the White House was apparently misled over his role, sparking security fears.
A series of short statements were released denying the story, including one from Secretary of State Rex Tillerson, which said Mr Trump discussed counter-terror operations with Mr Lavrov but "they did not discuss sources, methods or military operations".
"This story is false," said Dina Powell, the deputy national security adviser. "The President only discussed the common threats that both countries faced."
Officials have refused to answer specific questions, including what precisely the Washington Post report had got wrong.
Sources speaking to the New York Times and Buzzfeed News also confirmed the claims, while the Russian foreign ministry also dismissed the allegations as "fake news".
Dozens of reporters crowded into the West Wing as the story broke on Monday evening, reportedly overhearing the President's press secretary and top aides "yelling" at each other as they attempted to manage the chaos.
It came just days after the furore over Mr Trump's sacking of FBI director James Comey, shortly before Mr Lavrov's visit.
White House statements said he was dismissed over the Clinton email investigation, which was widely credited with swinging the election in Mr Trump's favour and saw him label his rival "crooked Hillary" and lead chants of "lock her up" at rallies.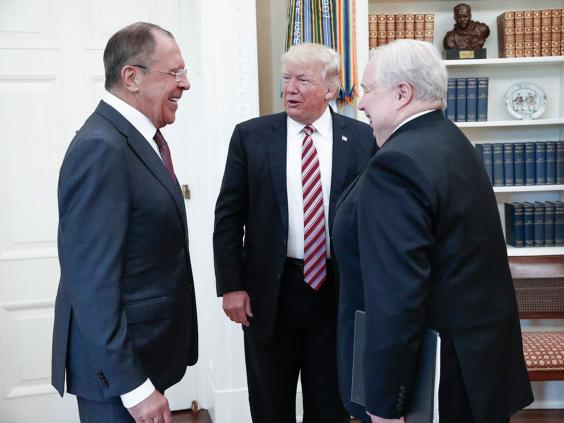 After recommending no charges be brought over her handling of classified information, the FBI director was leading a probe into alleged links between the Trump administration and Russia.
The President and the Kremlin have rejected a report by US intelligence agencies concluding that Vladimir Putin had ordered an effort to disrupt the 2016 election including the Democratic National Committee email hack to damage Ms Clinton.
As well as allegations of hypocrisy, there are concerns that Mr Trump's discussions with Russian officials may further damage his relationship with American and foreign intelligence agencies, ahead of his first overseas trip.
White House officials reportedly took steps to contain the damage, placing calls to the CIA and the National Security Agency. Both have declined to comment.
Republicans and Democrats have expressed concern about the reports amid mounting fears for the Trump administration's international credibility.
Bob Corker, a Republican Senator and chairman of the Senate Foreign Relations Committee, said the White House "has got to do something soon to bring itself under control and order", describing it as "on a downward spiral".
Chuck Schumer, the Democrats' Senate minority leader, called the story "disturbing," adding: "Revealing classified information at this level is extremely dangerous and puts at risk the lives of Americans and those who gather intelligence for our country."