Six riot police officers were injured, one with third-degree burns to his hand and face, in Paris when a group of about 150 people armed with molotov cocktails, stones and sticks hijacked the traditional May Day march organised by French unions.
Thousands had joined the celebration, with many using the occasion to protest against the far-right presidential candidate Marine le Pen and her party, the Front National. Police said 142,000 people attended May Day marches across France.
Shortly after the Paris march set off from the central Place de la République, a group with scarves covering their faces forced their way to the front and began throwing missiles at police, who responded with tear gas. Some pulled masonry from the walls of buildings to throw at the police and several shopping bags and backpacks filled with stones and bottles were found.
Even before the violence, the march had got off on the wrong foot. Unable to agree on how best to confront the prospect of Le Pen becoming the country's next president – by voting blank, abstaining or choosing Emmanuel Macron – the unions went their separate ways, with two organising a breakaway gathering in north Paris on Monday morning.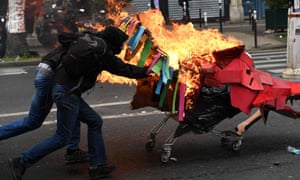 The main march took place hours later, when tens of thousands of people set off from Place de la République heading for Place de la Nation, via Bastille, three of the French capital's most symbolic squares.
The eliminated hard-left candidate Jean-Luc Mélenchon was given a rapturous welcome by supporters, leaving him close to tears. They carried banners calling for voters to shun the FN but, like their leader, none were publicly calling for a Macron vote.
"We have nothing in common with Mr Macron," said Paul Vannier, who plans to stand for parliament as a candidate for Mélenchon's France Unbowed movement in the legislative elections that follow later this month.
He said it was up to Macron to "stop insulting us … and take a step in our direction". "It for him to make sure Marine Le Pen is eliminated," Vannier said.
Other marchers carried banners rejecting both Le Pen's nationalism and Macron's neoliberalism, reading "ni patrie, ni patron" – meaning "not homeland nor boss".
The street battles erupted hours after Le Pen had laid into Macron at her final major rally in the capital. She appeared before a delirious crowd in north-east Paris, where supporters chanted: "This is our home."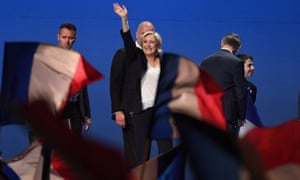 Le Pen described her rival as a candidate for the French "oligarchy", adding that only she would bring change. "Today, the enemy of the French people is still the world of finance," she said, calling on voters to "form a barrage against finance, arrogance, money as king".
She said two "totalitarian ideologies" threatened France: "Globalisation and Islamisation."
Le Pen avoided the thorny subject of her pledged dumping of the euro currency and withdrawal from the EU, viewed as unpopular with the wider public. She made a brief mention of Europe saying she would "negotiate with Brussels over the return of our sovereignty".
The rightwing former candidate Nicolas Dupont-Aignan, who gained just under 5% of votes in the first round and has joined forces with Le Pen in return for the promise of becoming prime minister, opened the rally by telling flag-waving FN supporters: "We are united and we are ready not just to win, but to govern and to govern in the interests of all the French. And we will win, thanks to you."
Earlier, Macron attended a commemoration to Brahim Bouarram, thrown into the Seine by FN supporters in 1995. Mélenchon also attended the event, as did Paris's Socialist mayor, Anne Hidalgo, but all three were present at different times.
At his last major rally in Paris before the final vote he launched a scathing attack on Le Pen and the Front National describing them as agents of hatred seeking to divide France and stoke a civil war. He said they were "the party of disaster" stoking internal divisions in France.
"Don't boo her! Fight her!" Macron said. "Make Le Pen lose next Sunday!" he shouted to the crowd, calling the Front National the party of "insults and obscenities".
But after devoting much of his speech to attacking the Front National, Macron said he held no judgement on its voters themselves because they came from a feeling of "anger, indignation and distress".
He said the only way to address that distress was to profoundly change the way French politics work. After France's mainstream left and right parties who had dominated politics for half a century were eliminated in the first round of the presidential race, he said the "old order" had died and he reiterated his promise to reinvent French politics.
In a nod to Le Pen's working-class and poorer voters in small towns and rural areas, Macron said he would recognise those who felt "forgotten" by the system. But he said he would not change his manifesto promise to loosen France's strict labour laws. He insisted globalisation could not be abandoned but that it could be changed.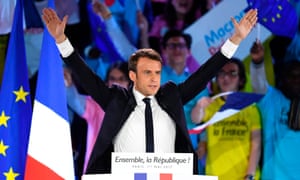 Meanwhile, Jean-Marie Le Pen, the father of the presidential candidate, attended the FN's traditional wreath-laying at the statue of the party's heroine, Joan of Arc, in central Paris. He promised a combative speech, but five minutes in his microphone failed . He had told them Marine Le Pen was "the daughter of France".
"She's not Joan of Arc, but she's taken on the same mission as Joan did," he said, adding that he thought her presidential campaign was not aggressive enough. Several hundred supporters present chanted: "France for the French."
His granddaughter, Marion Marechal-Le Pen, and other party heavyweights snubbed the event and chose to lay flowers at another statue of Joan of Arc on the other side of Paris.
On Monday afternoon, Macron had asked supporters not to boo when he mentioned Le Pen's name.
"Don't whistle her, beat her. There's a big difference," he said. "Sunday 7 May is not just about defending a political project, it's about fighting for democracy."