It's National Puppy Day!
On Thursday, we give a special smooch to our four-legged friends in honor of their loyalty and love, and who better to get us started than Betty White?
The television legend and lifelong animal rights activist took to Instagram to share a shot of her beloved golden retriever, Pontiac.
"He may be 12, but he's my baby!! Happy #NationalPuppyDay!" she wrote.
But White, 95, was hardly the only Hollywood star to share a pic of their cute canine.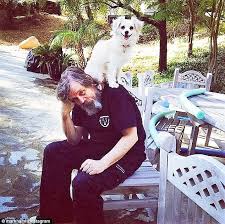 "Buffy the Vampire Slayer" star Sarah Michelle Gellar, 39, shared a throwback photo of her and hubby, Freddie Prinze Jr., 41, cuddling with their Bernese mountain dog when the dog was just a pup.
"Hamilton" star Lin-Manuel Miranda, 37, remembered the day he rescued his dog, Tobillo, with a special throwback shot.
"That one time a stray, starving puppy followed us on the beach and changed our lives forever. Love you Tobillo. #NationalPuppyDay," he wrote.
And the the New Kids On The Block Twitter page shared an adorable throwback shot of Jonathan Knight, 48, giving a smooch to a sweet friend.