It's been four months since we've talked about Jennifer Lawrence and her current boyfriend, director Darren Aronofsky. Four months without an update is enough time in which some famous people could split up, hook up with someone new, get married, and file for divorce. But apparently that's not what has happened here. They might have been laying low over the past few months, but they're still together.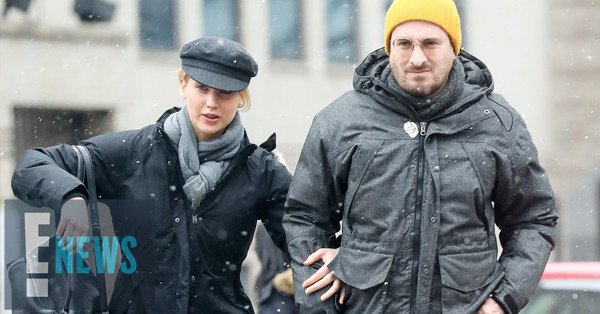 A source tells E! News that 26-year-old Jennifer and 48-year-old Darren spent the whole day together in NYC last Saturday. Just like everyone else with an extra $13 and two hours to kill, they went to see Beauty and the Beast, and then after they went to get Indian food. The source claims Jennifer and Darren "kissed and hugged" throughout the day, and that their relationship seems "very strong and genuine."
Another source tells E! that Darren has also visited Jennifer in Budapest, where she's filming Red Sparrow. The source claims he was there to "support" her while she's off filming, adding that they are "very happy together" right now. Jennifer and Darren are also apparently at the point in their relationship where she's met his 10-year-old son Henry, who he made with Rachel Weisz. Jennifer, Darren, and Henry were seen hanging out earlier today in NYC.
Despite the fact that it was snowy and cold on Saturday, Jennifer and Darren still managed to get in one of those romantic kissing-for-the-paps walks they so very much enjoy.
Well, they sort of squeezed in a kiss for the paps. E! points out Jennifer and Darren were partially obscured by a cab that drove by. That cab driver might as well pack up their things and move as far away from NYC as possible, because they'll never work in this town again. When Jennifer Lawrence and Darren Aronofsky choreograph a "spontaneous" public kiss after months of being away, the pap catching it better have a full, clear view.