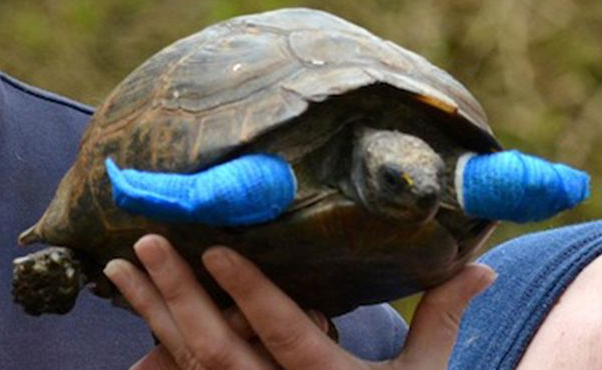 Mrs T, a tortoise who's at least 90 years old, has had a hard time lately. She enjoys roaming around the garden of owner Jude Ryder in Pembroke, west Wales, but earlier this month a rat chewed off her two front legs.
But Mrs T's owners came up with a novel solution to help her get around: by using the wheels from a model aircraft. And now she can go twice the speed.
Ryder told the BBC she spent more than £1,000 in vet bills and feared the worst. Then her engineer son, Dale Sinclair-Jones, came up with the idea for the wheels, which were taken from a toy plane and attached to Mrs T's shell with resin.
"We were afraid she may have to be put down but her new set of wheels have saved her life," she said.

"She took to her new wheels straight away but she has had to learn how to turn and stop."